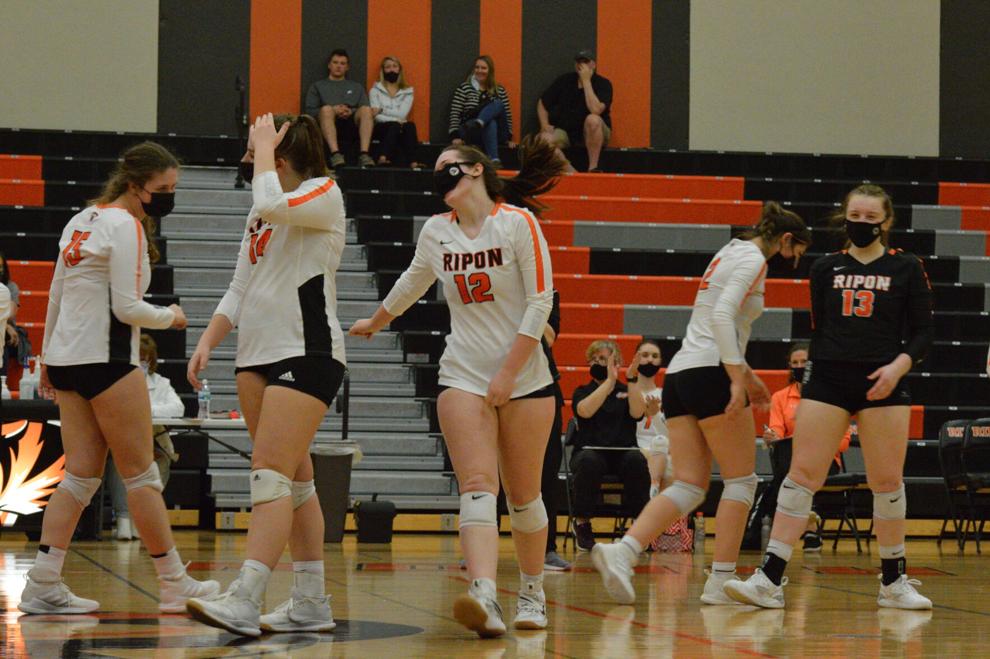 The Princeton/Green Lake Tigershark volleyball team entered Monday's match undefeated.
The Ripon Tigers made sure that it didn't leave that way.
Ripon handed the visiting Tigersharks their first loss in 10 matches, sweeping its neighbor to the west in three sets 25-19, 25-22, 25-15. With the win, Ripon improved to 7-4 on the season.
"Green Lake, they're a pretty decent team," Ripon head coach Tracy Landerman said Monday. "... They had a couple of good hitters, but if we go at a team aggressively and take them out of system and make them scramble to get something put together, we'll be in control. And we did that quite a bit tonight."
While the Tigers swept Princeton/Green Lake, it wasn't done easily. Landerman described the first set as back and forth, noting the teams traded runs and that the set was closer than the 25-19 score indicates.
"There's a pretty good gap there, but I think until the end, when we kind of went on a run against them [to pull away], it was back and forth," she said of the opening set.
In the second set, the Ripon head coach noted her team took command right away and then made some errors in passing and the Tigersharks took advantage of them and kept the set closer than it should have been. The third set, on the other hand, Ripon took control of pretty quick in the beginning and never looked back.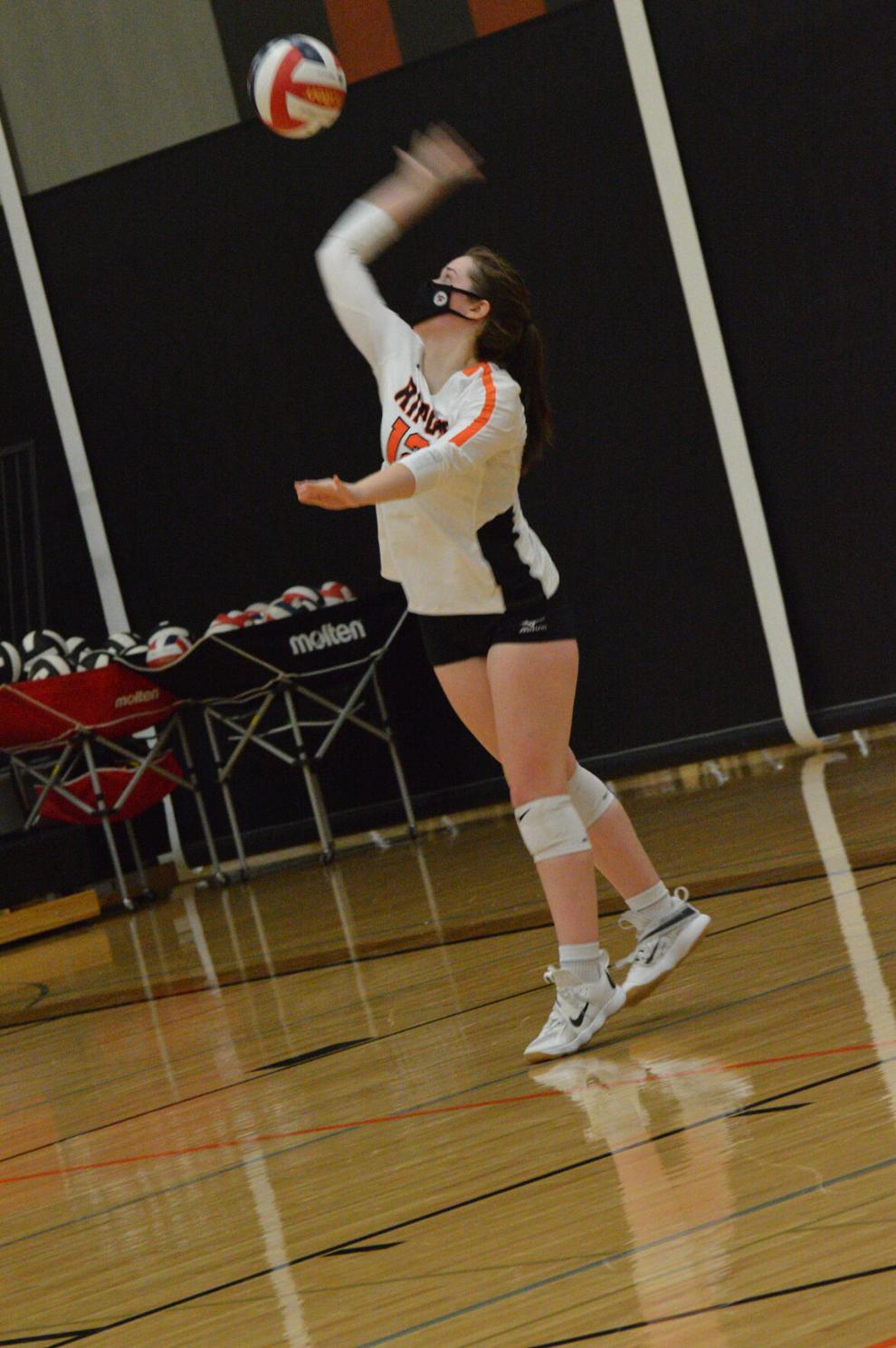 One of the areas Landerman was pleased with in the match was her team's serving. She noted it wasn't necessarily even the services aces, which Ripon had eight of, that stood out, but it's ability to make the Tigersharks off balance and not allowing them the opportunity to attack the ball.
"That put us in the driver's seat with some of our offensive play that we had at the net," Landerman said.
While pleased with the Tigers' serving, the Ripon coach thought her team was a little slow footed more than she would have liked and didn't make good passes at times, which didn't allow it to utilize its offense like it wanted to.
She was happy with how the Tigers had some "pretty impressive" saves to keep the ball alive. Landerman also noted the Tigers didn't have a lot of block kills, but had "a ton of touches at the net with our blocks."
Team Leaders
Service aces: Lexy Miller 3, Avery Downs 2, Abby Radloff 2, Erika Mills 1; Kills: Maleigha Kovalaske 10, Mills 9, Miller 7, Emma Pinnow 3, Radloff 3; Block kills: Kovalaske 1, Miller 1; Assists: Zimmerman 27; Digs: Downs 16, Kovalaske 11, Radloff 6, Mills 5, Pinnow 5 and Zimmerman 5.
Ripon dominates Green Bay East
The Tigers recorded one of their more dominating victories in recent memory last week Thursday as they defeated the Green Bay East Red Devils 25-8, 25-9 and 25-3 in a non-conference match on the road.
"The kids had a fun time with it because everybody contributed; it was a great team effort," Landerman said "... Everything was working well. We did all the right things. I couldn't ask for a sharper match on our end of things."
One of the many areas Ripon excelled in the dominating win was serving the ball. Lexi Miller and Erika Mills each had seven service aces apiece, while Sheridan Zimmerman ranked third on the team in the match with four.
"When you look at the amount of aces we had in that match comparing it to Green Lake, Green Bay struggled tremendously to pass our serves ... and we served well, so we took advantage of that," Landerman said.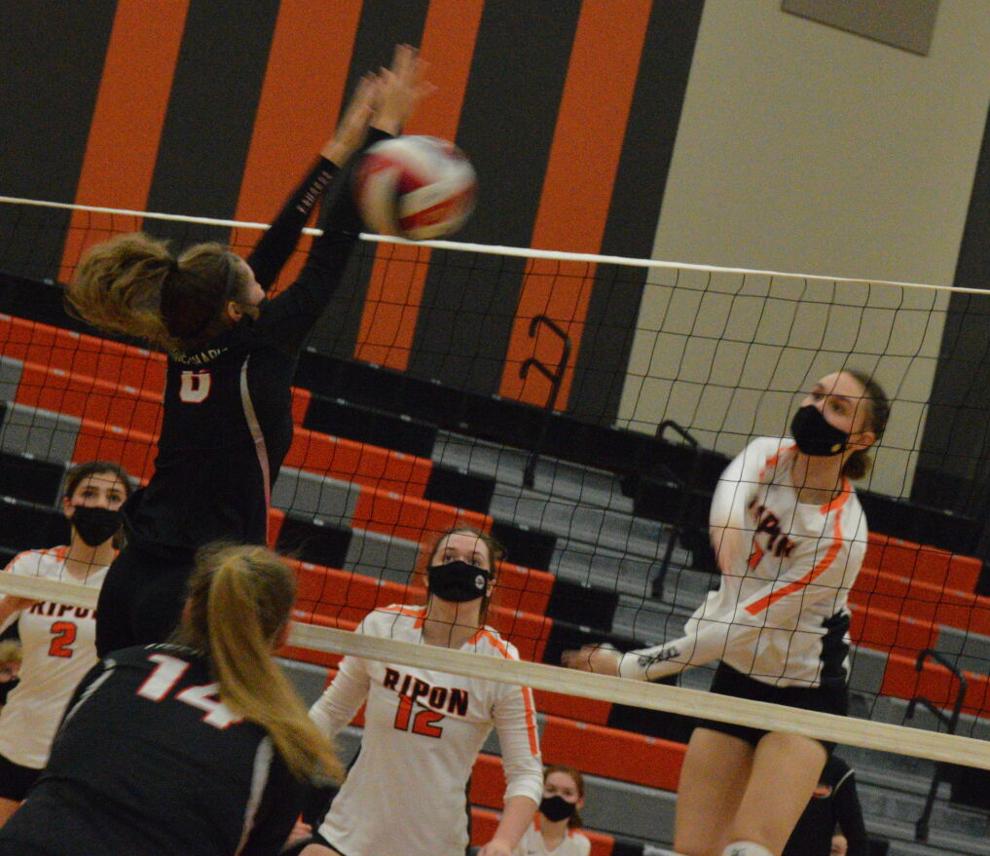 When Green Bay East was able to receive serves and return the ball to the other side of the net, the Tigers were able to have their way with their hitters and had what Landerman described as "a couple monster hits, where Green Bay East didn't even respond. She credited part of the offensive success to setter Sheridan Zimmerman, who racked up 24 assists in the three-set match. Maleigha Kovalaske and Miller led Ripon with nine and eight kills, while Abby Radloff and Mills added six and four kills points, respectively, in the winning effort.
Team Leaders
Service aces: Miller 7, Mills 7, Zimmerman 4; Kills: Kovalaske 9, Miller 8, Radloff 6, Mills 4; Block kills: Pinnow 2, Radloff 1; Assists: Zimmerman 24; Digs: Mills 7, Kovalaske 7, Downs 5.
Up next
Ripon will close out its regular season Thursday with a home match against Campbellsport, before traveling Saturday to Sun Prairie for regionals.
It will face host Sun Prairie, which is the top-seed in the four-team regional bracket at 1 p.m. in a regional semifinal matchup.
The winner of that match will then face the winner of No. 2 seed Beaver Dam and No. 3 seed Waupun at 7 p.m. for the regional championship.
Landerman noted the Tigers are fortunate to have two home matches (Princeton/Green Lake and Campbellsport) in the final week of the regular season and she is not ruling out her team's chances to defeat Sun Prairie Saturday.
"As far as Saturday, you never know; It's been a weird year all the way around," Landerman said. "My kids are actually peaking right now and really coming together and we're utilizing our strengths really well and we have kids that can play a very good net game; we have a great setter. We are coming on in our passing. I think the big thing is we'll go into Saturday and say, "Hey, you know what? Anything can happen.'"
She added that Sun Prairie is kind of an unknown to Ripon, but that she knows that it is a "very solid ball team and they play really good competition."
"They're not the No. 1 seed by accident; it was almost a no brainer in the meeting that that's where they belong," the Ripon head coach said. "... As long as [my players] go into it with the attitude of play hard and leave it all on the court, that's all we can ask for and I think they'll be ready to do that. I'm excited for them to get that opportunity."