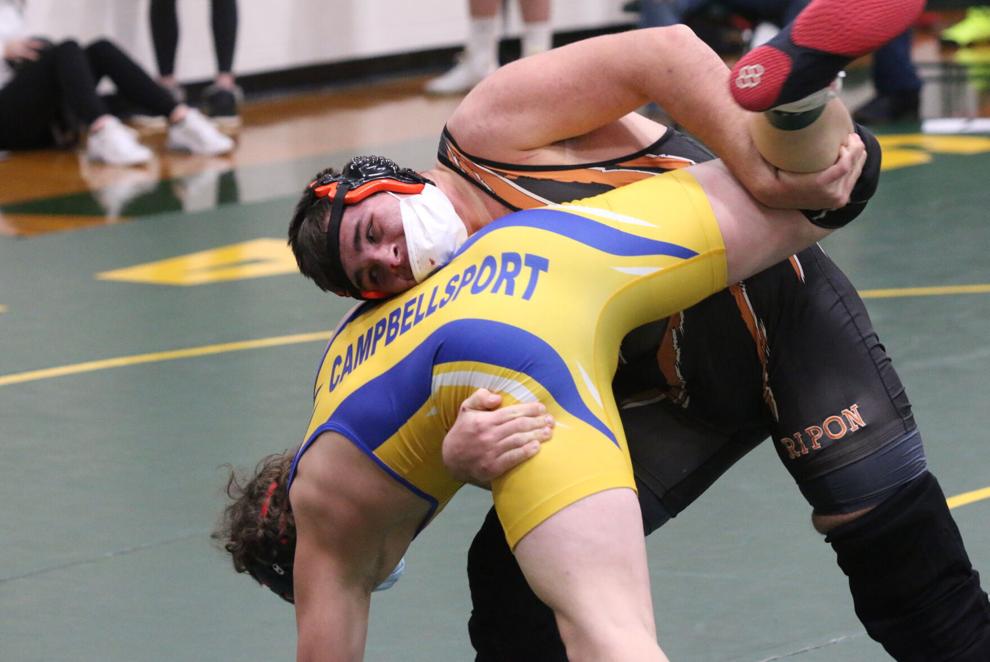 Aaron Socha made what head coach Lee Cotton called a "small mistake" during his 220-pound regional championship match against Campbellsport's Joseph Volz last weekend.
The Ripon High School senior wrestler wasn't about to let it happen again today (Saturday).
Facing Volz in a second-place match to determine who would go to state, Socha avenged the regional loss as he picked up the pin at the 3-minute mark at the Kiel Division 2 Sectional.
Socha becomes the first Tiger to qualify for the state tournament since Ryan Cody did so in 2018. The state competition will take place Saturday, Feb. 13 at Adams-Friendship High School.
He was the only one out of four Ripon wrestlers to advance as senior LeeRoy Cotton finished in fifth place at 145 pounds with a 2-2 record on the day, while senior Alex Button and freshman Caden Kraege dropped both of their matches at 170 and 285 pounds, respectively,
It wasn't an easy road for Socha (14-4 overall) to get to state as the senior needed to win four-straight matches after getting pinned in his first-round match at the 1-minute, 15-second mark to eventual sectional champion Jackson Funderburg (11-0) of Big Foot/Williams Bay.
Socha, who missed all of last season with an injury suffered during the football season, won his consolation match over Martin Luther's LaShawn Wesley-Carter (10-5) with a pin with seven seconds left in the first period. He then followed it up with a 9-1 major decision over Chilton/Hilbert's Phoenix Fortune (5-3) in the consolation semifinals and 12-3 major decision over Catholic Memorial's Adam Boehm (12-2) in the third-place match to set up the rematch with Volz.
Much like Socha, LeeRoy Cotton (11-6) also dropped his first-round match as he lost by pin to Delavan-Darien's Jared Greidanus (9-5). He then won his consolation round one match by forfeit to put him in a position to wrestle for third place and a chance to advance to the state tournament.
LeeRoy Cotton, however, lost his consolation semifinal match to Racine St. Catherine's/Racine Lutheran/Catholic Central's Henry Amborn (14-1) on a 7-4 decision. Amborn went on to win his third-place match by no contest and then the second-place match by a 5-0 decision over Greidanus. Even if Cotton had defeated Amborn, he would not have had a chance to wrestleback for second place and a trip to the state tournament as a result of losing to Greidanus in the first round.
Button, meanwhile, lost by first-period falls to Delavan-Darien's Cole Hanson (12-0), who ended up winning sectionals, and Kewaksum's Colin Duren (11-8). Kraege, on the other hand, suffered first-period pins to eventual section champion Evan Ladwig (16-0) of Plymouth and Delevan-Darien's Logan Hermann (6-7). Herman wound up in fourth place at 285 pounds.
Check back for a full story, which includes comments from Lee Cotton and information on who Socha will face in the first round of the state tournament, in the coming days.