The Ripon Tiger cross country teams ran some of their best races of the year last week Saturday, but saw their seasons come to an end as they ran into stiff competition at the Portage Division 2 Sectional.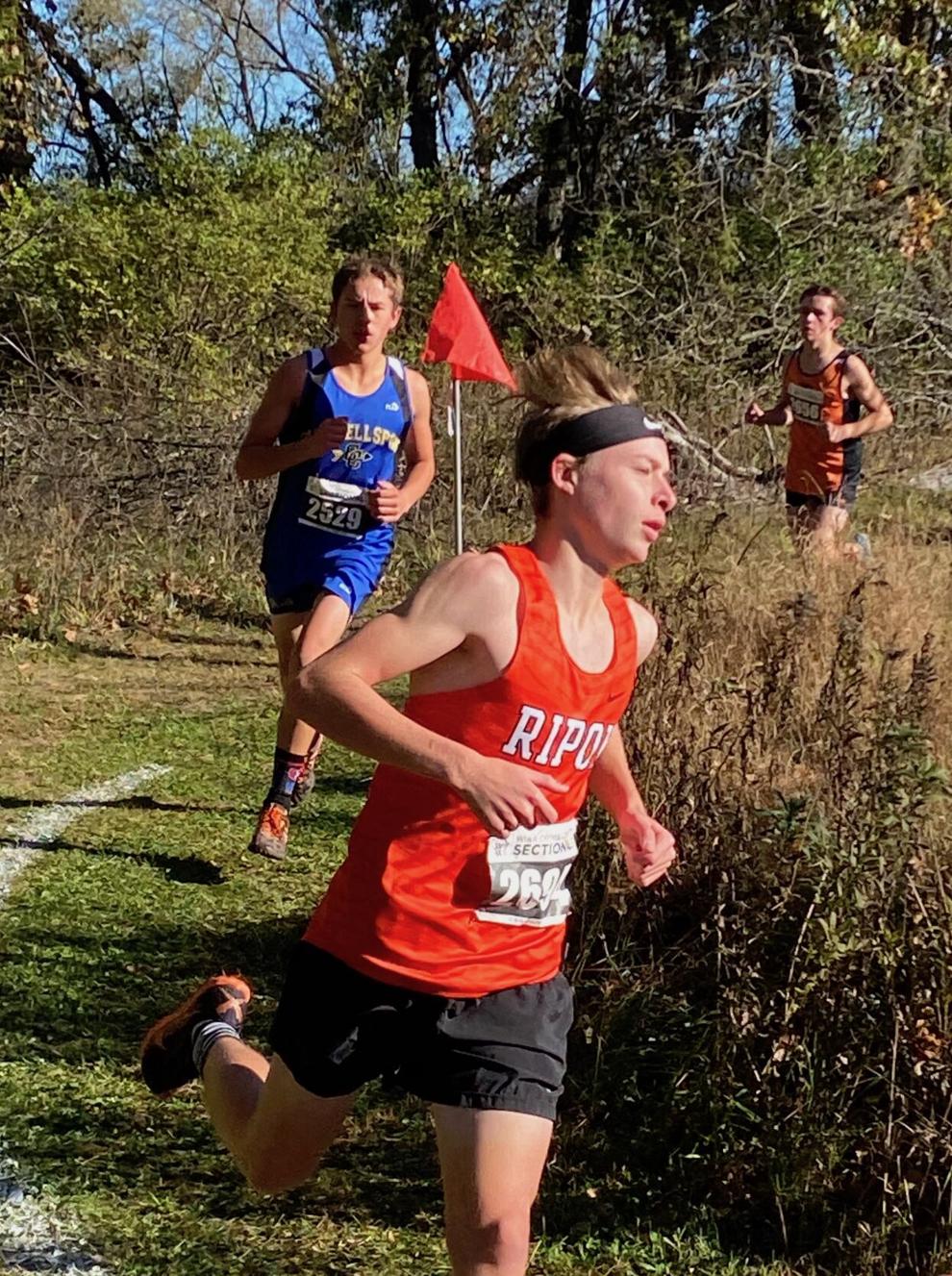 Running in one of three sectionals that had 15 teams finish and one of only two that featured more than 100 runners crossing the line, the Tigers finished 11th on the girls' side and 13th on the boys' side.
Xavier and Winneconne won the boys' and girls' titles, respectively, by a good margin to punch their tickets to state, but the race for the second and final team spot to qualify was much more closely contested with three teams separated by nine points on the girls' side and four teams within 11 points for the boys.
Xavier ended up taking the second spot for the girls, while Winneconne was the boys' runner-up.
Other schools competing at the Portage Sectional include Kewaskum, North Fond du Lac, Wautoma, Lomira, Berlin, Kettle Moraine Lutheran, Grafton, Columbus, Ripon, Waupun, Portage, Mayville and Campbellsport.
"We definitely had a tough field to come out with, but I thought our team and our individuals did a heck of a job competing the way they did," Ripon head coach Chris Gatzke said.
It was equally as hard to qualify as one of the five individuals not part of a state qualifying team to advance as on the boys' side a runner needed to finish in the top-seven and on the girls' side it was the top-nine.
Ripon High School cross country at sectionals — Oct. 23, 2021
Dayton Baird was the Tigers' highest-finishing runner at the meet as he finished 27th out of 103 runners (19th among runners not qualifying as a team) with a time of 18 minutes, 12 seconds. This came despite battling a leg injury he suffered a week earlier and twisting his ankle on the same leg a mile into the race.
On the girls' side, Lucy Beuthin was Ripon's top runner. The senior crossed the line in 21:50 to place 34th out of 102 runners and was 25th among individuals not on qualifying teams. Chris Gatzke noted that Beuthin "ran a tough race" and was just 2 seconds away from setting a personal-record (PR) time.
She was one of five Tiger girls who nearly set or did set a PR. Recording PRs were freshman Libby Gatzke (48th, 22:27), sophomore Grace Schoelzel (77th, 24:15) and freshman Adalin Nodolf (81st, 24:44). Freshman Ava Osheim finished a little more than a second off her PR, finishing in 24:16 to place 78th.
The only two runners for the girls' team who did not come close to matching their PRs were senior Hannah Yeomans and junior Madalyn Leinweber. Yeomans, who was still working her way back after missing some time earlier this season, placed 55th with a time of 22:48, while Leinweber finished in 26:46 to place 96th.
Leinweber was running in place of freshman Leah Page, who missed the sectional meet with an injury.
On the boys' side, all five Tiger runners who finished after Baird recorded PRs. Among them were freshman Aidan Ruedinger (69th, 20:12), sophomore Henry Beuthin (80th, 20:43), sophomore Jayden Trochinski (85th, 20:56), freshman Cyan Volkmann (89th, 21:08) and freshman Riley Kuzelka (94th, 21:50).
Chris Gatzke attributed some of the PRs to the athletes liking the course, which was one lap.
"It was a great spectator course, where there was somebody in almost every place on the course cheering, so there wasn't a place to hide. That's why you have good times is because there's fans everywhere, and that was really helpful. The kids want to go back, so next year we're going to go there to run an invite there instead of a different meet ... It was out in the middle of nowhere, but it was fun."
Future of the team
While Ripon will graduate five runners — Baird, Lucy Beuthin, Yeomans, Miles Fisch and Kasie Badtke, Chris Gatzke noted the future is bright as the majority of runners were underclassmen.
That includes eight freshmen, seven of whom recorded PRs last week Saturday, as well as a handful of sophomores. As of now, the Tigers are slated to have just one senior (Leinweber) next season.
While Chris Gatzke is excited for the future, he noted that this year's seniors will be missed.
"Every senior on the team has been here for four years," he said, noting that is unusual and phenomenal. "They've contributed to the program every year that they've been here. Kasie finishing even at the back of the pack, just people watching her determination to continue to finish, gives them the determination to finish their own race. Hannah and Lucy performing at the top of the pack, and including their underclassmen teammates to keep pushing them along, it's been great. Dayton and Miles, the same thing."
He added that the five seniors, while there were no state appearances among them, left their mark on the program with their dedication to the program the past four years.