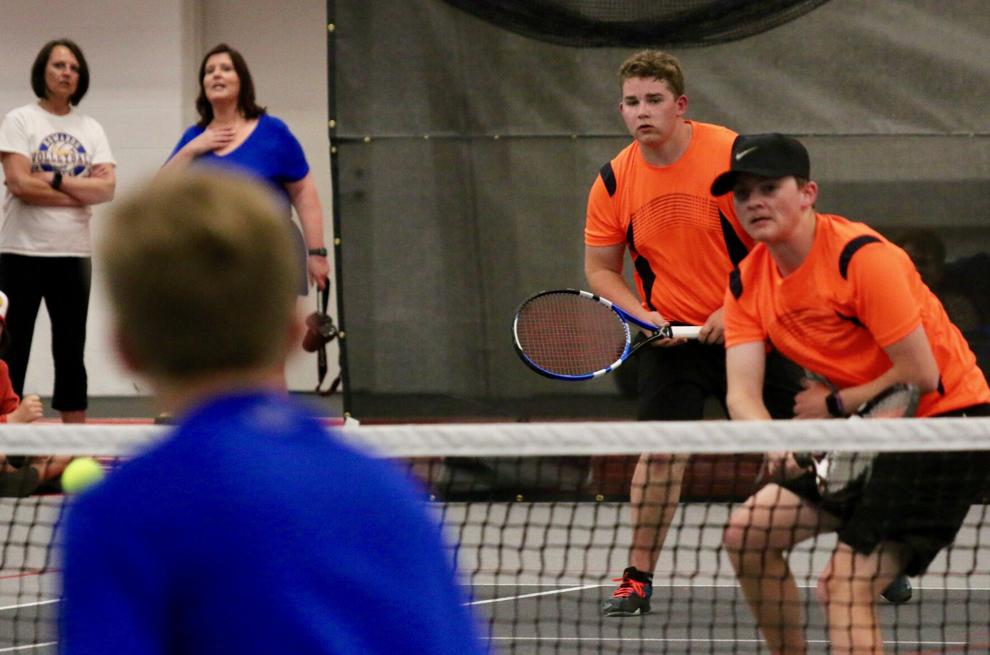 The Ripon High School Tiger boys' tennis team swept the three doubles matches, but were unable to pick up a win at singles to secure the victory as it fell to Roncalli 4-3 Monday afternoon on the road.
It did secure a 7-0 victory over an undermanned Two Rivers on the afternoon as it won the only two contested matches to improve to 4-1 in conference duals.
While the Tigers won all three doubles matches against Roncalli, they didn't all come easily.
At No. 1 doubles, Micah Schoff and Daniel Zimmerman dropped the first set 5-7, before coming back to win the next two 6-1, 6-1 to win the match.
"They certainly were not playing their best tennis, especially during that first set," Ripon head coach Brent Sanderfoot said. "They didn't get down and didn't give up. They regained focus following the first set and simply went back to the basics to pull out the win in three sets. I think they grew a lot with this match."
Winning a little easier for the Tigers were the No. 2 doubles team of Brevin Schmuhl and Oliver Roeper and No. 3 duo of Justin Mildebrandt and Brock Stollfuss.
Schmuhl and Roeper won 6-2, 6-3, while Mildebrandt and Stollfuss cruised to a 6-0, 6-1 win.
Sanderfoot noted Schmuhl and Roeper are "two of Ripon's tallest players and are intimidating when they are at the net." He added that Mildebrandt and Stollfuss "are quick and cover most angles of the court."
While Ripon was unable to win a singles match, Sanderfoot was pleased with the progress his players have made this season.
Isaac Whitrock, who played JV as a freshman before last season was canceled due to COVID, made the jump to No. 1 singles.
Despite losing 2-6, 1-6 against Roncalli Monday, Sanderfoot noted Whitrock "comes to practice each and every day, stays extremely positive and is having a lot of fun out there."
He missed the first three weeks of contact days due to being on the boys' soccer team.
Ardilles Engelschenshilt also had a late start due to injury, but Sanderfoot noted he has come along way at the No. 2 singles position since returning and has managed to shake off some rust. He fell 3-6, 4-6 against Roncalli.
Jonathan Muenchow and Christian Camarena, meanwhile, are first-year players who Sanderfoot said still are learning the game but are competing and having fun. Muenchow lost at No. 3 singles 2-6, 4-6 and Camarena fell at No. 4 singles 1-6, 1-6.
Camarena did pick up one of Ripon's two contested victories against Two Rivers as he defeated his opponent 6-3, 6-2.
"I thought Christian served really well in his second match of the day," Sanderfoot said. "He was consistent and played some really smart tennis. He really enjoys the game and he's just fun to watch. He doesn't get down and on himself and works really hard."
Engelschenshilt recorded the other contested win as he prevailed 6-0, 6-2. Sanderfoot noted Engelschenshilt kept his opponent deep and kept him moving side to side, tiring him out.
All of the Tigers other players won their matches by forfeit.
Tigers fall to St. Mary Catholic
Ripon dropped its first dual of the year last week Saturday, falling to host St. Mary Catholic 7-0.
"St. Mary's is one of the better teams in the state and, I think, this was a good indicator for our team of the growth we need to do," Sanderfoot said. "I didn't see anyone give up and most matches were much closer than the score [indicated]."
He added that he thought Whitrock at No. 1 singles and the No. 1 doubles team of Zimmerman and Schoff "played very well" despite 0-6, 1-6 losses, and that the No. 2 doubles team of Schmuhl and Roeper and the No. 3 duo of Mildenbrandt and Stollfuss "were right there," both losing a set 5-7.
Also suffering losses for the Tigers against St. Mary Catholic were Engelschenschilt at No. 2 singles (1-6, 2-6), Muenchow at No. 3 singles (1-6, 2-6) and Camarena at No. 4 singles (0-6, 0-6).
Ripon High School boys' tennis vs. Howards Grove — May 21, 2021
Ripon defeats Howards Grove 5-2
The Tigers were able to handle a change of scenery last week Friday to defeat Howards Grove 5-2. After being rained on, they moved venues to Ripon College's Willmore Center to conclude the match.
One of Ripon player taking advantage of the switch to indoors was Engelschenschilt.
The No. 2 singles player was trailing at the time of the move but went on to win 6-4, 6-2 for his first career varsity win.
"He plays at the Willmore during the offseason and you could tell he was really comfortable with the lighting and surface," Sanderfoot said of the junior.
A junior who was steady in his play regardless of where the dual took place was Whitrock, who won his No. 1 singles match 6-3, 6-3 to improve to 3-0 in conference matches this season.
"He's remaining very consistent with his shots and stays very even-keeled," Sanderfoot said. "I think the conditioning he had in soccer really helped him. His opponent seemed to get a bit winded."
Muenchow also had to show some conditioning as well as mental toughness at No. 3 singles as he won his first set 6-0, before dropping the second 3-6 and coming back to win the third and decisive set 6-2.
Sanderfoot admitted he was a bit nervous following the second set since Muenchow won so convincingly in the first, but he spoke with him and the first-year player "was totally in control and totally confident."
"I was really impressed with his temperament," the Ripon head coach said. "Some might press a little and get a little frustrated, but Jon just stuck to his strengths in the third set and came out on top."
One match that went three sets that Ripon was unable to win was at No. 1 doubles, where Zimmerman and Schoff dropped what Sanderfoot described as "the match" of the night 6-3, 4-6, 4-6. Zimmeran and Schoff dropped the first three games of the first set, before getting on the board and winning the next six games.
Sanderfoot noted the second set was "a grinder" and that he "saw some of the best doubles I have ever seen."
"It was really back and forth and most of the spectators seemed to be watching the action," he said.
Zimmerman and Schoff then jumped out to a 4-1 lead in the third set, but that was as far as they got as Howards Grove won the next five games to take the set and match. Sanderfoot chalked up Ripon's loss to inexperience.
"This was Micah and Dan's second match together while it was the seventh for Howards Grove," the Ripon head coach said. "I thought our guys played well. They are growing and getting better with each match."
While Zimmerman and Schoff were unable to eke out the victory, Ripon's No. 2 doubles team of Schmuhl and Roeper and the No. 3 duo of Stollfuss and Mildebrandt were able to earn hard-fought victories to remain undefeated in conference. Schmuhl and Roeper won 6-4, 7-5, while Stollfuss and Mildenbrandt prevailed 6-4, 6-4
"Both teams played very well," Sanderfoot said. "They moved together and hit their spots. "
Tigers edge out win over Kewaskum
Ripon's road dual against the Kewaskum Indians last week Thursday came down to No. 3 doubles, where Mildebrandt and Stollfuss earned a 7-6 (1), 6-4 victory to give Ripon a 4-3 team win.
"Justin and Brock stayed extremely well composed and hustled every point," Sanderfoot said of what they did well. "They never got down on themselves or each other. They were clutch in the tie breaker and both hit some excellent shots to secure the victory late in the second set.
Mildebrandt's and Stollfuss' victory completed a sweep of doubles play for the Tigers. Also winning at doubles, in convincing fashion, were the No. 1 team of Schoff and Zimmerman (6-1, 6-0) and the No. 2 duo of Schmuhl and Roeper (6-0, 6-0).
Sanderfoot noted that Schoff and Zimmerman "played very well in their first varsity match" and "remained focused and played a really smart and error-free match." He added that Schmuhl and Roeper, meanwhile, "dominated from start to finish" and "played excellent at the net."
The Ripon head coach also was impressed with Isaac Whitrock, who picked up Ripon's lone singles' victory. The junior defeated Bret Fahrenkrug at the No. 1 position 7-5, 6-1 for his first varsity win.
"Isaac played a phenomenal match against a very talented player," Sanderfoot said. "Isaac was able to keep his opponent back by keeping the ball deep and to the corners. When his opponent did come to the net, Isaac hit some great lobs."
Dropping matches for the Tigers were Engelschenschilt at No. 2 singles (5-7, 2-6), Muenchow at No. 3 singles (0-6, 0-6) and Camarena at No. 4 singles (0-6, 2-6).
Up next
Ripon will try to get back on the winning track Thursday, when it hosts Sheboygan Falls at 4 p.m.
It also will travel Tuesday to Plymouth to face the Panthers.