The Ripon High School girls' tennis team will be represented by a trio of positions at the Kohler Sectional.
No. 1 singles player Hadley Neper, No. 3 singles player Halle Hadel and the No. 1 doubles team of Lizzie Grewal and Emma Mott all punched their ticket for Wednesday's competition Monday at the Sheboygan Falls Subsectional.
"We're really excited," Ripon head coach Breck Speers said. We lost six or seven players last year from the varsity team."
For Hadel, the result was not unexpected as the senior continued her strong season. With two wins at the subsectional, she improved to 15-1 overall this year.
She defeated Kewaskum's Katie Last 6-0, 6-3 and Oshkosh Lourdes Avery Halla 6-0, 6-3 to earn her spot.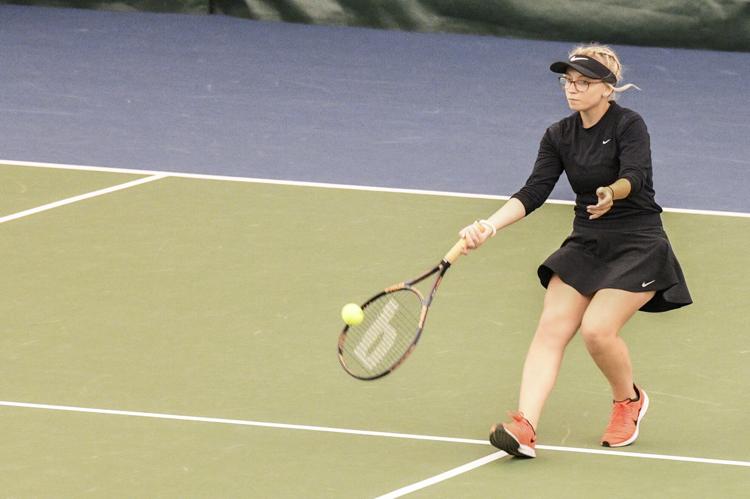 While what Hadel did was no surprise, that wasn't the case for Neper. The senior who made the switch from No. 1 doubles to No. 1 singles this year, entered just 4-9 and was the No. 5 seed in the eight-player bracket.
She, however, was able to defeat Oshkosh Lourdes' Olivia Nielsen 6-3, 6-3 to advance to sectionals.
"We're real proud of Hadley for winning that match ... Both Hadley and her opponent, Olivia from Lourdes, were previous basketball players, great athletes, they converted to tennis," Speers said, noting Neper also changed up the type of shots she was hitting which helped be victorious.
The No. 1 doubles team of Grewal and Mott, meanwhile, was just 1-10 entering Monday and also was a No. 5 seed in its eight-team bracket. Unlike Neper, it didn't have to work as hard for its win as it won by default over Kiel as its opponent was going through contract tracing.
"They made a joke [that] if their first-round opponent that they are supposed to play at sectionals happens to default, which is happening sometimes, they would go to state," Speers said.
Also winning a match for Ripon at subsectionals was Lexi Tebon at No. 2 singles. The senior won her first match 6-2, 5-7, 6-2 over Oshkosh Lourdes' Melanie Tushar.
Tebon, however, couldn't win her next match to advance as she ran into Kohler's Maria Burrows, who improved to 20-4 on the season, and lost 0-6, 0-6. Tebon finishes 7-9.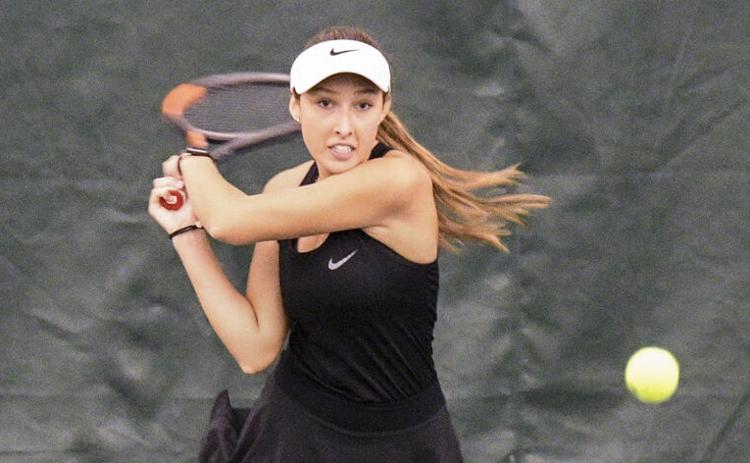 "Lexi won the first set and this girl started playing better and Lexi stumbled a little bit, lost a little confidence," Speers said. "But we're so proud of Lexi for coming back, regaining confidence, taking total control of the third set and winning it ... And then when she came up against the Kohler girl, the Kohler girl is only a freshman but hitting like just amazing ... I saw Lexi stepped up her game in the final match against Kohler; she's going to lift her game to a new level in the future months. She's graduating, but I hope she goes on to play college ball."
The rest of the Tigers' positions lost their one and only match. Falling in hard-fought matches were Kelly Rudolph at No. 4 singles (4-6, 2-6), the No. 2 doubles team of Emily Edinger and Lilly Schram (6-3, 2-6, 4-6) and the No. 3 doubles team of Ella Altnau and Quinn Diedrich (5-7, 6-2, 4-6).
Ripon edges Kiel 4-3 in regular-season finale
The Tigers closed the regular season on a high note last week Thursday as they defeated Kiel 4-3 on the road.
They won three of the four singles matches, while also winning one of the three doubles matches to prevail.
With the win, Ripon finishes in sixth place out of 10 schools in the Eastern Wisconsin Conference with a 4-5 record.
Kiel, which went 2-7 in conference, was without some of its regular players last week due to contract tracing.
"It was just a great feeling; it was exhilarating for the girls," Speers said. "In the past, Halle has won a match for us when it was tied 3-3. When we went to Kiel, it was all tied 3-3, it came down to the final match and Kelly Rudolph at No. 4 singles won that match pretty decisively."
Ripon was dominant in its four victories as it dropped a total of just four games. Neper and Hadel highlighted the dominance as they won their No. 1 and 3 singles matches, respectively, 6-0, 6-0. Rudolph also won soundly 6-3, 6-0 at No. 4 singles, while the No. 3 doubles team of Altnau and Diedrich cruised to a 6-0, 6-1 victory.
The Tigers also put up a fight in their losses. That was no more evident than in the No. 2 doubles match, where Schram and Edinger fell in three sets 1-6, 6-2, 6-7 (10-2).
Tebon also managed to win three games in both of her sets at No. 2 singles, while the No. 1 doubles team of Grewal and Mott won six games as it fell 4-6, 2-6.