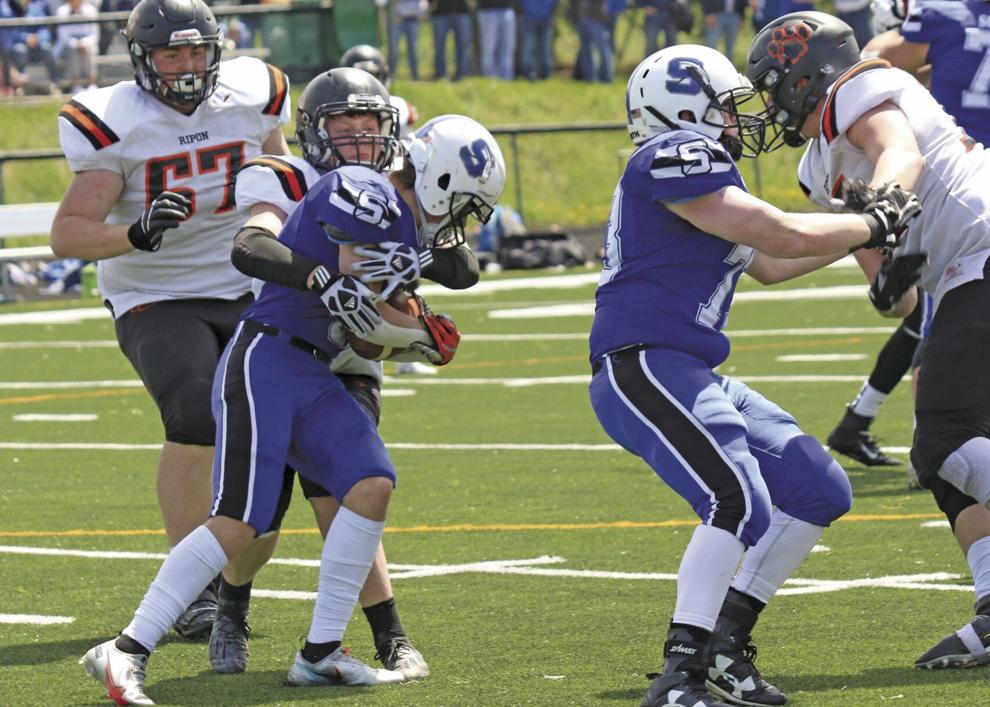 The Ripon High School Tiger football team was no match for the perennial private powerhouse St. Mary's Springs Ledgers last week Saturday, falling to the three-time defending state champion 48-6.
St. Mary's Springs scored two touchdowns in a span of less than two minutes midway through the first quarter and entered halftime leading 20-0, before building the advantage to 41-0 early in the fourth.
"We didn't match up well against them," Ripon head coach Mark Bradley said of the lopsided loss. "They had a big offensive and defensive line that was quick and fast and we weren't able to execute all the time with it, so they were able to get a lot of big plays on us. But the kids continued to play hard and, in that type of situation, that's all you can really ask for these kids is to give their best."
Ripon High School football vs. St. Mary's Springs
While Ripon was out-matched on both sides of the ball, it was able to record a few nice stops defensively and engineer a couple long drives offensively. Among the defensive stops were a stand late in the first half when the Ledgers were driving and threatening to take a 27-0 lead into halftime.
Offensively, the Tigers had a chance to score before that drive after St. Mary's Springs gave them new life with a running into the punter penalty. They drove the ball into Springs' territory and had a couple shots at the end zone, but could not haul in a couple passes where pass interference could've been called.
Ripon finally managed to break through in the fourth quarter, when Garrett Jennings put the ball on Gannon Stellmacher's left shoulder for a 19-yard touchdown pass. The extra point was blocked.
"With their defensive front, it's hard to control them," Bradley said. "A lot of times, with offense especially, it takes all 11 guys to get a drive together and if one guy misses a block or if the defense makes a good read one guy can mess things up … We knew going in that it'd be tough, but they kept working and kept playing and, then late in the second half, we were able to put a drive together and Garrett had a nice pass to Gannon in the end zone. It was good that they were able to get on the board."
That wasn't the only nice pass for Jennings in the game as the senior quarterback completed a season-high 11 passes on 18 attempts for 100 yards, despite some strong winds that were present throughout.
He distributed the ball to a lot of different targets as well as five players caught passes. Hauling in passes were Caleb Hopp (three for 29 yards), Stellmacher (three for 27), Grant Schneider (two for 19), Noah Olson (one for 19) and Kai Agamaite (one for 18). Ripon did fumble one of the receptions and had one pass picked off deep in its own territory, which led to the Ledgers' second touchdown of the game.
St. Mary's Springs' out-gained the Tigers 469-139, which included a 390-39 edge on the ground.
Up next
Ripon will try to bounce back and finish the season on a winning note Friday, when it hosts the Winnebago Lutheran Academy Vikings at 6 p.m at Ingalls Field. Both teams will enter the game with 2-4 records.
Bradley noted that the Tigers will have to come ready to play if they hope to come out with a win.
"They're very similar to us in the fact that they're going to play hard, they're going to keep scrapping and whoever gets ready and gets after it and wins the line of scrimmage on both sides of the ball is going to be the team that's going to come out victorious," the Ripon head coach said. "We'll be ready to go for that game and it's always nice to end on a win, so it puts a little bit more of an emphasis on this week's game."