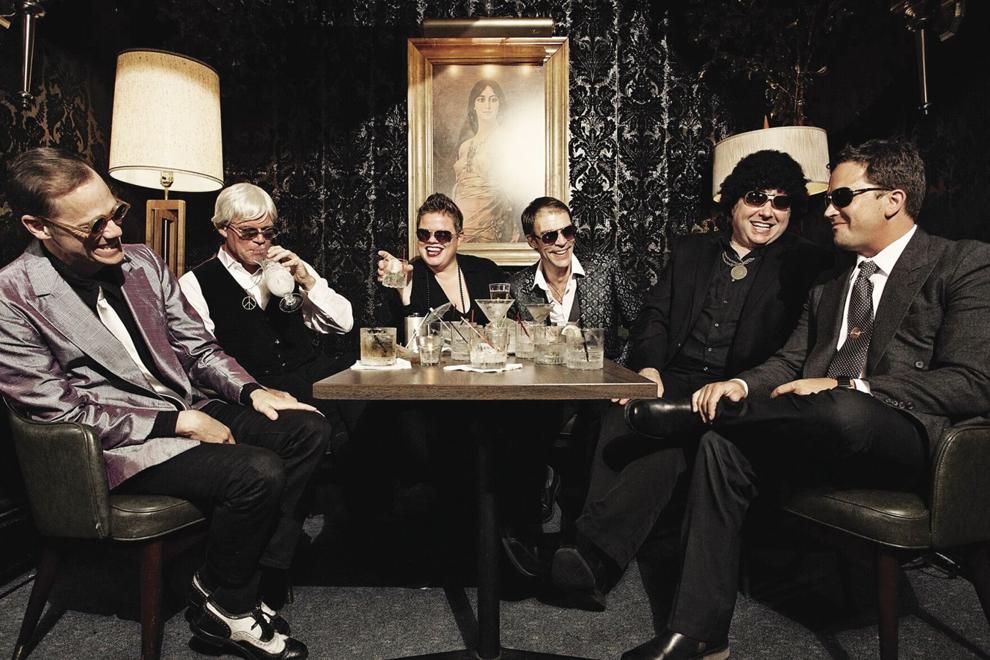 There's a ton of fun happening in the Ripon and Green Lake areas this weekend as summer is in full swing.
From multiple opportunities for live music to a time-honored tradition in downtown Ripon to the Green Lake County Fair, this weekend offers something for everyone.
Check it out:
5 Card Studs returning to Ripon Summer Concert Series
This week's Horicon Bank Ripon Summer Concert Series features the return of the 5 Card Studs.
A performance by the 5 Card Studs features a blend of big-time Las Vegas attitude and 1970's TV game show schmaltz, glossed over with a washed-up lounge/wedding singer veneer.
The concert, which takes place Friday from 7 to 10 p.m. at the Village Green in downtown Ripon, is sponsored by Diedrich Jewelers.
Musically, the 5 Card Studs' performances feature many recognizable '60s and '70s AM Gold classics — hits from artists such as Neil Diamond, Engelbert Humperdink, Tom Jones; soul classics from Al Green, Smokey Robinson, The Spinners, Wilson Pickett; one-hit wonders like "Brandy (You're a Fine Girl)," "Hooked On A Feeling," "Green Eyed Lady," "Hot Child In The City" and "The Love Boat." The band also will play disco hits by the Bee Gees among others.
The concert series, which is organized by Ripon Main Street, Inc., takes place from 7 to 10 p.m. at the Village Green located at the corner of Watson and Seward streets in historic downtown Ripon. A variety of beverages are available and participants may bring lawn chairs or blankets to sit on. No carry-ins are allowed in the park because beverage sales help cover entertainment expenses.
Scooping the Loop set to return
"Scooping the Loop" was a time-honored tradition for many Riponites. For decades, local residents came together to drive their vehicles through historic downtown Ripon and meet up with friends. Many great memories and lifelong relationships were created during this unique social gathering.
The sound of roaring engines and the smell of exhaust will once again fill downtown Ripon Saturday as cars "cruise" up and down Watson Street …
For various reasons, the activity was banned from the community in 1992. Two years ago, downtown business owners brought the nostalgia back for one evening and the event was a success.
Ripon Main Street is pleased to announce the third-annual Scooping the Loop event will take place from 5 to 8 p.m. on Saturday, Aug. 7. Traffic laws will be strictly enforced. No burnouts.
Stores will be open throughout the day to provide an adequate dose of retail therapy. Complete the evening at the Village Green with free outdoor movie shown on a 25-foot inflatable screen with professional sound system. This year's film features the 1981 film "Indiana Jones and the Raiders of the Lost Ark." Based in 1936, archaeologist and adventurer Indiana Jones is hired by the U.S. government to find the Ark of the Covenant before Adolf Hitler's Nazis can obtain its awesome powers. This is considered by IMDb as one of the top-100 movies of all time. The movie will begin at dusk (approximately 8:30 pm).
Green Lake County Fair runs through Sunday
The Green Lake County Fair is back after a year hiatus due to the pandemic. It runs Thursday through Sunday with the theme of "How the West wa…
The Green Lake County Fair is back after a year hiatus due to the pandemic. It runs Thursday through Sunday with the theme of "How the West was Fun" at the County Fairgrounds on South Street in Green Lake.
For more information, click on the story.
Meet Town Square's featured artist of the month at reception
The work of artist Susan Hazelberg will be featured throughout the month of August in the Town Square Lobby Gallery, with an artist reception Friday, Aug. 6 from 5 to 6 p.m.
Hazelberg takes inspiration from the human form for much of her work.
"Personally, and in my art, I have always been drawn to the human figure," she said. "Even though we basically have the same parts, I find inspiration in the diversity of each individual's unique entity. Each of us carries our own life story; be it in the flesh and blood, person or an image. It could be a look in the eye, twist of the mouth or a tilt of the head."
Hazelberg then translates these personal stories into visual creations rich with color and meaning.
"As an artist, I create images that take form before my eyes," Hazelberg said. "I hope to give them a distinctive personality. They live through my imagination, creativity, skill and love of color."
Town Square Community Center is devoted to showcasing local artists, and the Lobby Gallery is Green Lake's popular showcase for the latest works of the area's most outstanding artists.
GLA Shine a Light Celebration
This year has brought many reasons to celebrate, including the Green Lake Association's 70th birthday.
The Green Lake Association invites individuals to join it Aug. 7 to celebrate the lake and shine a light on the challenges its water quality faces. The Green Lake Association will host this event virtually again this year, which means individuals may tune in with their family from wherever they are — be it dockside on Big Green, in the backyard in another state or from the comfort of the couch.
Live Music at Vines & Rushes
Vines & Rushes Winery will host live music featuring Hannah Rose Friday from 5:30 to 8:30 p.m. Rose will be play live acoustic classic country. Attendees may enjoy Wisconsin wine, wood-fired pizza and a beautiful atmosphere while Rose brings back those warm soul filling country songs of the past.
"Select your favorite wine, cider or Knuth Brewing Company craft beer, enjoy a wood-fired pizza and sit back and enjoy the music," Vines & Rushes Winery's website said.
On Saturday, Vines & Rushes Winery will host a customer appreciation day. Among the offerings are wine bottle discounts, door prizes, guided tours, wood-fired pizza from 11 a.m. to 8 p.m. and live music from Sam Luna & The Federalhippies with special guest Sam Burchfield from 2 to 5 p.m. Live music will be outside weather permitting.
Princeton's Famous Flea Market Saturday
"The world's greatest flea market" is back this summer, every Saturday from 6 a.m. to 1 p.m. in Princeton City Park. The market is open from mid-April to Oct. 16.
"A destination in itself, Princeton's Flea Market is the largest outdoor flea market in central Wisconsin; enjoy a Saturday stroll in Princeton to browse through hundreds of vendor goodies," the Princeton Chamber of Commerce website said of the event. "The treasures abound every week as new vendors enter the mix, so make it your weekly stop to find that long sought after item or just to get a tasty snack at the food stand."
Admission and parking are free and there is an abundance of food options. Local service groups and organizations serve snacks, sandwiches, and beverages from the food stand in the center of the Park. Other vendors serve a wide variety of delectable delights including egg rolls, heavenly fresh-made warm donuts, and much more. The Information Center is also housed in the food stand.
The Summer Market at Town Square
Town Square is hosting its summer market Friday from 3 to 6 p.m.
"The Market at Town Square is an outdoor event every Friday, May 14 -Sept 24, will feature fresh-off-the-farm goodness and handmade items," Town Square says. "Social-distance and enjoy the delights as local growers and artisans will show off their wares that you and your family will love."
Live Music Saturday
Tall Paul's will host live music Saturday from "Quint" and "Mike Matthews" from 6 to 10 p.m.
Music Bingo at Goose Blind Grill and Bar
Grab your Bingo card Friday from 8:30 to 10:30 p.m. at Goose Blind Grill and Bar and listen and watch to see if that song is on your card. Four rounds of fun. Prizes for each round.
Dan Braaksma plays at Town Square Tap
Town Square Tap, 492 Hill St., will feature live music featuring Dan Braaksma from 6 to 9 p.m. Grab a chair on the patio by the fire and hang out with Town Square Tap.