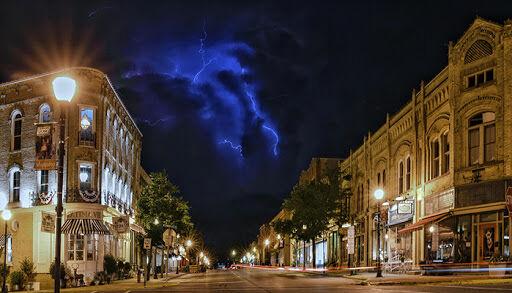 Town Square art exhibit opens Friday
"8 Green Lakes," a new series of paintings on time and place, will be the featured attraction at the opening of artist Marshall Gardner's March Town Square Lobby Gallery exhibit Friday from 5 to 6 p.m. at 492 Hill St. in Green Lake.
The socially-distancing-oriented reception is open to the public, and Gardner will be on hand to meet fellow art lovers and discuss his work.
His art will be on display at Town Square through the entire month of March.
In addition to his work as a painter, Gardner also is a trained sculptor, poet, philosopher and teaches an ongoing series of creative writing and poetry classes at Town Square.
"Marshall is a man of many talents and passions, including the art of storytelling," said Amy Reese, program and events manager at Town Square. "His series of paintings will tell a unique story about his love of the area that he has spent his summers growing up in and is now calling home in his adult years."
Born in Ohio and educated in Brooklyn, N.Y,, Gardner now lives and works at Avrom Farm in Green Lake. The importance of art and poetry in his life makes him glad for the opportunity to teach.
This lobby gallery exhibit is made possible by the generous supporters of Town Square, the community center operated by the nonprofit Green Lake Renewal, Inc. that aims to enrich the lives of the Green Lake community members, family and friends by providing cultural, social, recreational, educational and economic opportunities for people of all ages.
Folk-punk, indie and a little rock with Brett Newski
Brett Newski, a North American nomad, songwriter, podcaster, illustrator and Alternative guitarist from Milwaukee will perform Friday at the historic Thrasher Opera House in downtown Green Lake. His performances are described as "part rock n' roll, part stand up and part therapy."
"Trying to get a bead on Brett Newski is weird," said VultureHound, which is a British monthly magazine. "Part folk-punk but at the same time, he lacks something in the aesthetics – part indie, but there is too much of the folk-punk and grunge in there. There are a dozen different sub-genres of rock and punk that Brett Newski fits into, and at the same time, refuses to be held by."
NEW VIRTUAL TICKETS
In addition to the standard in-person performance, Thrasher also is offering a new "virtual" ticket option for $15 to allow individuals to enjoy the concert from the comfort of their home.
Individuals may purchase a ticket for the concert online, and then on the day of the show they'll receive an email containing a private YouTube link about one hour before the live show begins. These shows will not be able to be viewed publicly on YouTube; only virtual ticket holders will be able to see the live show. Virtual tickets must be purchased by 6 p.m. on the day of the show.
In-person tickets for the concert are $35, virtual tickets are $15, and both support the artist and the Thrasher Opera House. Tickets are available online at www.thrasheroperahouse.com or by calling 920-294-4279.
Doors and bar open at 7 p.m. Concert will begin at 7:30 p.m.
Vintage Shop Hop
The spring Vintage Shop Hop event runs Friday and Saturday, allowing customers to "shop til they drop" at various downtown shops in the ripon area.
Participating shops in Ripon include Hart Mercantile, Back Porch Gatherings, Patina Vie, DIG Garden Store, Chic Tique Girls and Fiddler Creek.
"You better tell the boss now you need the day off or two," the event's website says. "Call your friends and get it on your calendar. Shops begin registering on January 1 and they have until mid-February to come on board. The Master List of Shops grows every day until then so keep checking back! Don't miss out! Start planning today."
For more information, visit the "Vintage Shop Hop" Facebook page.
Artisan Marketplace
Vines & Rushes Winery is excited to host its first Artisan Marketplace in 2021 Saturday from 10 a.m. to 4 p.m.
The Great Room & Production Room will house a plethora of vendors who will have handcrafted items available to purchase.
Those participating include: Silver Wear by Darlene, OliAnna Jewels, The Dandelion Farm, The Photographic Art of Joy, Stella Blu Bohemian Boutique, Designs by Kris, Auburn Woods, Ferrel's Flock, Schmitz Family Crafts, Ted David, Custom Cabinetry by Tony & Eve's Creations.
Between now and March 6, a different vendor will be featured on Vines & Rushes' Facebook page, along with a few pictures of their items.
"Grab a glass of wine or Knuth Brewing Company craft beer and wander through the marketplace. Wood fire pizza service 11 a.m. to 8 p.m.," the winery's website said. "See you at the Marketplace."
Live Music featuring Hannah Rose
Hannah Rose will be playing live Acoustic Classic Country at Vines & Rushes Friday night from 5:30 to 8:30 p.m.
"Enjoy 100% Wisconsin wine, wood-fired pizza, and a beautiful atmosphere while Hannah brings back those warm soul-filling country songs of the past," the winery's website says. "Select your favorite wine, cider, or Knuth Brewing Company craft beer, enjoy a wood fired pizza, and sit back and enjoy the music."