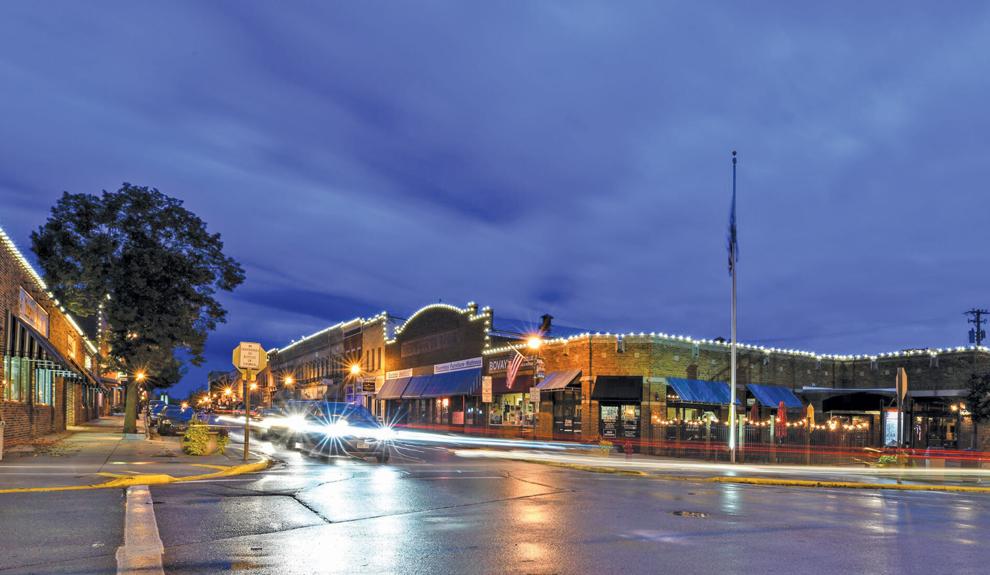 The leaves are beginning to change, but the Ripon area still offers plenty to do on this fall weekend.
From multiple opportunities for live music, to flea markets, halloween parties and more, there's something for everyone to enjoy.
Check it out:
The Jimmys at Thrasher Opera House
Thrasher Opera House is hosting a concert featuring the Jimmys at 7:30 p.m. Saturday.
The Jimmys is an award-winning festival favorite bringing people together from coast to coast, Canada, Europe, and the Caribbean for over twelve years. They Will be performing their signature high-energy show at the historic ThrasherOpera House in downtown Green Lake on Saturday, October 9 at 7:30 p.m.
The Jimmys feature band leader Jimmy Voegeli phenomenal Hammond B-3 keyboardist, singer and songwriter; an experienced killer rhythm section steeped in blues with Perry Weber on guitar, Chris Sandoval on drums and JohnWartenwieler on bass and the icing on the cake is the best horn section in theMidwest—Pete Ross on saxophone, Mike Boman on trumpet and Joe Goltz ontrombone. It doesn't get any better than this – The Jimmys will deliver!
Tickets are $18. Make your reservation for The Jimmys by visiting www.thrasheroperahouse.comor by calling 920.294.4279.
Not So Scary Halloween Party
Petals and Plows Greenhouse is hosting a Not So Scary Halloween Party Saturday at the Kaufman Farm, located at 9129 Kaufman Road.
The event is a pre-pay event, and the last day to register was Wednesday.
"This is the only non scary night maze we will offer this year and the last entry into the maze will be at 7:30 p.m. Bring your own flashlights," the farm said on Facebook. "This is a prepaid event and we need to make sure we can plan ahead appropriately for staffing to make sure we have a good and safe event for everyone on our working farm."
Live Music at Vines & Rushes
Vines & Rushes will host live music Friday and Saturday.
Friday from 5:30 to 8:30 p.m. it hosts Live Music featuring Michael Grabner.
"Michael Grabner is a singer/ songwriter, and Appleton native," the winery said. "He possesses a unique sound rooted in the traditions of country, folk, and rock and roll. Michael's sound would be best described as americana or alt country; He is influenced strongly by American roots music."
Saturday from 2 to 5 p.m. Vines & Rushes hosts Live Music featuring Dan Braaksma & Al Muenchow
"Local musicians, Dan Braaksma & Al Muenchow, will be playing a blend of country, blues, jazz, and rock cover music," the winery said. "They have a great sound and quite a following. Don't miss it."
Craft Beer and Food Festival
The Town Square Community Center is hosting a Craft Beer and Food Festival Saturday from 12:30 to 4 p.m.
"Sample 50+ beers from local and national craft brewers and purchase delicious food offerings from Green Lake area restaurants and entrepreneurs," a posting on the Green Lake Area Chamber of Commerce website reads. "The event will be located under a 2,100 square foot tent on the Mill Pond Terrace overlooking the beautiful pond. Admission for this event will be $35 per person."
Dead Horses returns to Green Lake
Town Square Community Center welcomes Dead Horses back to its local-area roots for a one-show-only appearance Saturday, October 9 from 7 to 9 p.m.
Named by Rolling Stone magazine as an "Artist You Should Know," Dead Horses offer "smoky vocals, cinematic lyrics [and] a beautifully uncluttered collection of songs."
Guitarist/singer Sarah Vos and bassist Daniel Wolff have released three albums, opened for The Who and accrued more than 20 million spins on Spotify for the single "Turntable.
Wolff, originally from Berlin, said the opportunity to perform in Green Lake is a special treat for the band that got its start here.
"Sarah and I have been playing together for over 10 years and it was this community that jump-started our careers as musicians in Dead Horses," Wolff said. "The local Battle of the Bands allowed us to perform and the attendees voted for us to win two years in a row. We are humbled by the support of the town's people and local businesses that have continued to bring us in and provide a place for us to perform over the last 10 years."
Vos and Wolff, with longtime collaborator Jamie Gallagher on drums, are currently working on a new full-length album that will be released in 2022. Attendees to the Oct. 9 show at Town Square will be some of the first to hear this new material.
"Town Square is thrilled to welcome back a local favorite, Dead Horses, for the community to enjoy," said Jo Ellen Madden, member of the Town Square Board of Directors. "Their show will be in the newly renovated ballroom where you can grab a beer, move to the music and mingle with friends."
Tickets are $25 and available at greenlaketownsquare.org.
White Lake Oktoberfest
White Lake Beach Resort is hosting an Oktoberfest event Saturday at N4785 19th Avenue Montello.
The event runs from noon to 8 p.m. and features live music, and Free admission.
Princeton Flea Market
Princeton's famous flea market returns this weekend for the second to last flea market of the season.
Princeton's flea market is the largest outdoor flea market in central Wisconsin, and is hosted in Princeton City Park.
"Admission and parking are free and there is an abundance of great things to eat," the Princeton Chamber of Commerce said. "Local service groups and organizations serve snacks, sandwiches, and beverages from the historic food stand in the center of the Park.
"Other vendors serve a wide variety of delectable delights including egg rolls, heavenly fresh-made warm donuts, and much more. The Information Center is also housed in the food stand."
Friday, Oct. 8 — Oktoberfest Bazaar and Luncheon:
The United Methodist Women's Oktoberfest Bazaar and Luncheon returns Friday at Ripon Immanuel Church, 401 West Fond du Lac St.
It will offer the luncheon in two seatings — 11 a.m. and 12:30 p.m. — for safety reasons. Individuals may arrive 15 minutes prior to their scheduled ticket to be seated and will be served at the table.
Saturday, Oct. 9 — South Woods fall meeting and tour:
South Woods Park Association (SWPA) will hold its fall business meeting Saturday at 1 p.m. in the South Woods parking area and will follow that up with a guided natural history/fall colors walk.
The walk will be led by SWPA President and Ripon College Professor Emeritus of Biology Skip Wittler and SWPA board member and Ripon College Assistant Professor of Biology Ben Grady.
More information is available on the SWPA website at www.southwoodsparkassociation.org.